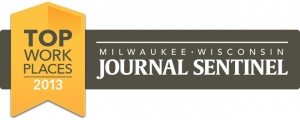 The Milwaukee Journal Sentinel just published a
special section
focused on strong and healthy workplaces in southeastern Wisconsin. There are clear distinguishing qualities that set the best apart. To help identify and illustrate the leadership aspects of great workplaces, the editors asked me to take part in a Q & A, based on many of the lessons in "WORK HAPPY: WHAT GREAT BOSSES KNOW." Since it's my hometown paper, you can imagine how happy I was to oblige: The interviewer asks:
Q: In your book, you talk of the five "symptoms" of a healthy workplace culture. What are they, and what makes them healthy? A: In a healthy workplace culture: Employees know it's not a democracy, but their voices matter. When employees feel they can offer ideas and be heard, they are happier at work - even if they don't get to make all the final decisions.
For the the rest of the symptoms and many more tips, here's a
link to the "Top Workplaces"
special section.